Adaptive Corporate Marketing and Communications

The hum of twin engines on Seattle's Lake Union may interrupt a quiet conversation in the park or a peaceful paddle board past the gently bobbing houseboats. But for Chad and Harlan Robins, brothers and founders of Adaptive Biotechnologies, it's music to their ears—a welcome reminder of just how far they've come.
In 2006, Harlan was excited by the biotechnology industry that at the time was just beginning to build momentum in the Emerald City's South Lake Union neighborhood. With an offer to join the prestigious Fred Hutchinson Cancer Research Center, the scientist looked out over the bustling waterfront scene—seaplanes taking off and landing, schooners passing by with their sails billowing, and the frenetic beauty of what he saw helped seal the deal. Now 15 years later, the visionary company started by Harlan and Chad is an anchor of Seattle's booming life sciences scene. Adaptive's growing operations, with a new headquarters at 1165 Eastlake overlooking the lake, is both a reflection of their story and a catalyst, propelling it into the future.
"The science that's coming out of this city is remarkable, and we're the beneficiary," Chad said. "We're able to hire a lot of talent out of the surrounding institutions and universities, but we're also recruiting and hiring people from across the country to come to Seattle to make the biotech community and Adaptive even greater."
Adaptive is ushering in a new diagnostic and therapeutic platform the company calls "Immune Medicine." Their Immune Medicine Platform combines biology and technology to decode how T cell and B cells, cornerstones of the adaptive immune system, naturally detect, attack and remember disease to create better tests and treatments that may one day help end the patient journey and transform medicine.
With a significant uptick in growth over recent years, it became increasingly clear that the company's leases at 1551 and 1208 Eastlake could not keep up with its expanding workforce. Recognizing the advantages of staying within the South Lake Union biotech enclave, Adaptive worked with longtime partner and early investor Alexandria Real Estate Equities, Inc. to lock in a location for their new headquarters, a development nestled between Eastlake and Fairview Avenues, just steps away from the Fred Hutch.
"Space is mission critical because it's the platform where companies like Adaptive do their transformative work," said Joel Marcus, executive chairman and founder of Alexandria Real Estate Equities, Inc./Alexandria Venture Investments. "Their need for a new headquarters also symbolizes the leadership role that they've taken within Seattle's biotech community and their vision for creating a space that fosters great collaboration and cooperation and for building a first-in-class culture."
To bring its vision for a new headquarters to life, Adaptive turned to Seattle architect Ben de Rubertis of Flad Architects. An experienced leader in designing for science-based facilities, de Rubertis was inspired by Adaptive's mission as well as its mandate to create a space expressive of its culture. After months spent talking to a team of executives and getting to know the company, de Rubertis had a plan in place: 72,000 square feet of glass-enclosed state-of-art laboratory and office space to move Adaptive's science forward and a multitude of unique details and amenities to make sure the company's culture moves along with it.
"The inspiration for the building design is to really make it easier and more fruitful for Adapters to come in and do their work together," de Rubertis said. "The idea was to create areas where they can more readily collaborate and see more deeply into their processes and into their science, so that they're at the top of their performance while they're at work. We really wanted to create that experience of being in the building where the science is on display."
Setting the stage

To make Adaptive's new headquarters stand out as the place to be, de Rubertis designed a 6100-square foot entrance plaza between Eastlake and Fairview Avenues. From Fairview, a monumental stair features colorful, hand-laid mosaic tilework by New York artist Stephen J. Miotto of Miotto Mosaic Art Studios. The installation includes three important Adaptive themes: T-cell receptor pairings, computational biology and gene sequencing. Essentially a walkway connecting Eastlake and Fairview Avenues, the monumental stair was never meant just for Adaptive. In fact, de Rubertis hopes the common area will be a gathering place and source of pride for the entire neighborhood.
"South Lake Union is rapidly developing into a biotech hub," de Rubertis said. "And we think that this stair really helps to demonstrate what's special about the science that's happening here, whether it's at Seattle Cancer Care Alliance, Fred Hutch, Adaptive or any of the other companies doing amazing work here. It speaks to three languages of biotech coming together in one location."
Accessible via the plaza, Adaptive's second-floor lobby features a seating area, a reception desk and a decorative partition made up of 3-D trapezoids and triangles. The motif, referenced first on the monumental stair and carried throughout the building, represents a T-cell receptor pairing, one of the key scientific concepts that informs the adaptive immune system.
Past a set of see-through security turnstiles, a lounge space will feature more mosaic tilework by Miotto Mosaic Art Studios and floor-to-ceiling windows along Fairview that face out toward Lake Union. De Rubertis used the proximity to the water and the neighboring Center for Wooden Boats as inspiration for design elements like a muted blue-gray palette and gently curved wood slats along the wall and covering a portion of the ceiling, all of which nod to the area's unique boating-building past.
Spotlighting science

If the second-floor common spaces set the stage, on the third level, science steals the show. With an elevator bank and interior stairwell in the center, a ribbon of connected glass-enclosed laboratory space lines the outer walls, allowing both natural light and sense of camaraderie to flow through from one side of the building to the other.
"Highlighting Adaptive's science is absolutely essential to the building design," de Rubertis said. "From the moment you emerge from the stairwell or elevator bank onto the third floor, you're introduced to the science. You're being told a story. Storymaking is also a really important part of building experience and culture-making at Adaptive, so the chance for us to pack those two essential ideas into the design was really the key opportunity here."
Just as the transparent and continuous lab space beckons Adaptive scientists to connect with each other and colleagues who are working on different parts of the process, alcoves—dubbed "science parlors"—located opposite the central stairwell and tucked at various points along the ribbon wall offer intimate spaces for more collaboration. The parlors vary in size and feature lounge-like seating and whiteboards for breakout learning sessions in full view of the work that is being done at Adaptive.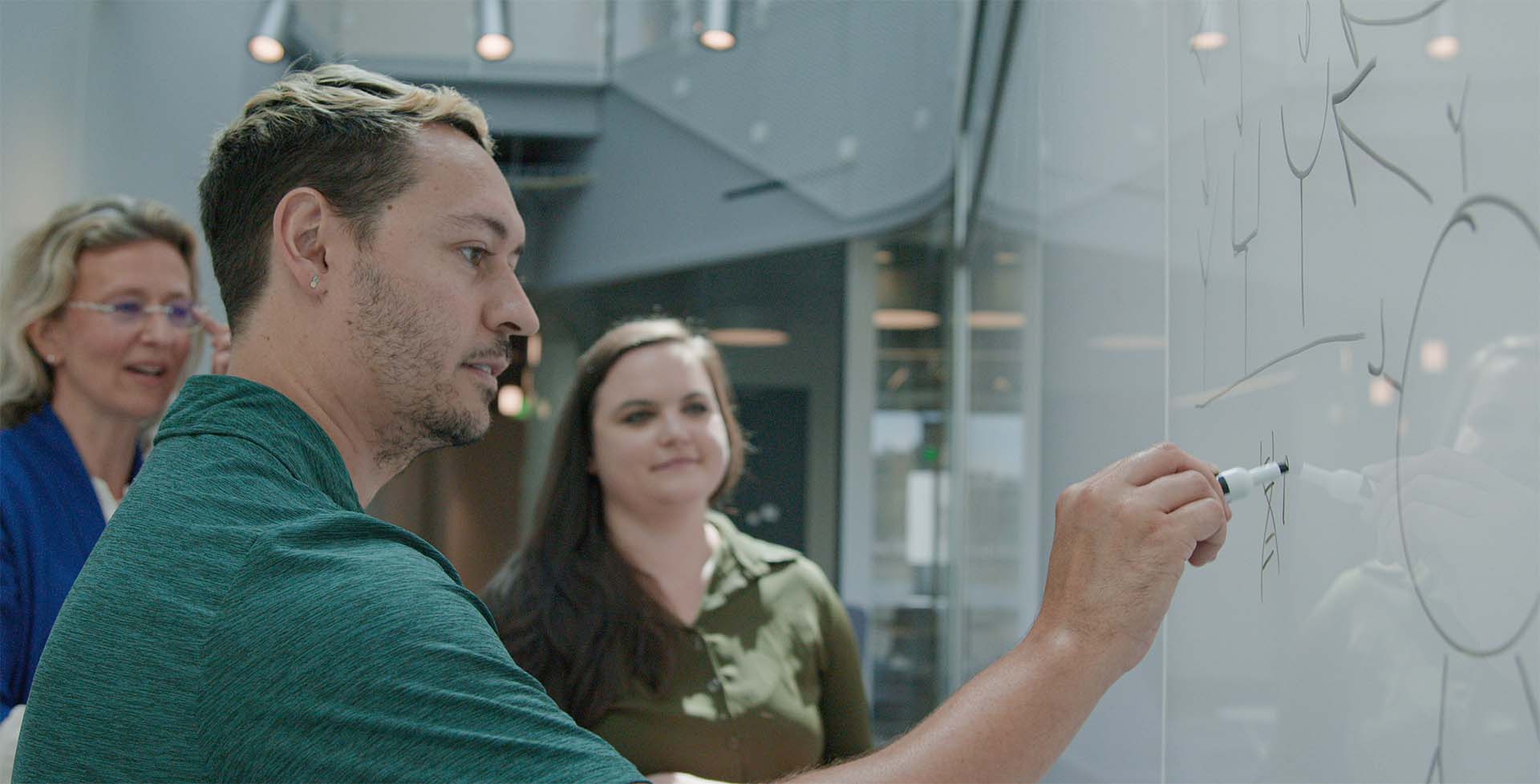 Other unique details continue the culture-making experience on the third floor. For example, employees can fuel up on coffee, cold beverages and snacks at the centrally located refreshments station. Meanwhile, a mural being developed by local artist Katy Stone will offer a splash of color to a sundrenched but otherwise stark white wall that continues up to the fourth floor directly under a skylight.
Centering culture
On the fourth floor, de Rubertis set out to use every square inch of space available to help the Adaptive culture thrive. Executive offices, banks of low-profile desks and conference rooms fill the interior space, while a glass bifold door opens to an outdoor terrace that stretches the length of the building's north side. Boasting tables, lounge seating and a living roof garden, the terrace is the perfect place for Adaptive employees to work together, let loose or just enjoy fresh air and a great view.
While the well-appointed outdoor space stresses Adaptive's synergistic connection to Seattle and the active lifestyle its geography inspires, de Rubertis designed several indoor features to reflect that same sentiment. A glass-enclosed central stairwell runs the vertical length of the building with openings on levels two through four. To encourage employees to take the steps, de Rubertis widened the stairwell and commissioned local metal fabricator Architectural Elements to create the custom laser-cut metal guardrails. A skylight provides natural light from above and a light strip tucked along the wall lends architectural illumination and warmth. At street level on the west-facing Fairview Avenue side of the building, workers traveling by foot, bicycle or even kayak can take advantage of showers and changing rooms before heading up to work.
With its abundance of science and people-centric spaces, Adaptive's new headquarters positions the company for its next chapter of growth.

"Our biggest asset, by far, is our people," said Robins. "The culture that we've created provides an environment that lets people be creative and flourish. That is pretty special."
While the information is considered to be true and correct at the date of publication, changes in circumstances after the time of publication may impact on the accuracy of the information. The information may change without notice and Adaptive Biotechnologies is not in any way liable for the accuracy of any information printed and stored or in any way interpreted and used by a user.